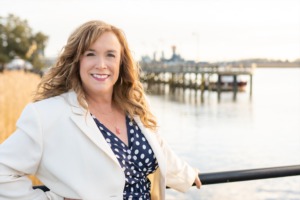 My husband and I came to reside in the Wilmington area two years ago and instantly fell in love with the community, people, culture and lifestyle.  I immediately started to familiarize myself with Wilmington, from the residential areas to downtown to the shoreline.  I realized that Wilmington has it all - fun in the sun, nightlife, cultural museums with constant activities and community events.  There is always something new to discover in the Wilmington area.
I have been a Realtor for ten years in the past and worked in customer service including the travel industry my entire life.  
As a mother of 5 , 
I know the needs of a growing family.  As an empty nester (except for my 1 year old Yorkie), I understand the desire to downsize or upgrade to a new life.  Whether you have lived in Wilmington your whole life or are new to the area as I have been recently, I am definitely the one to enthusiastically and steadfastly guide you to the home of your dreams.  
I have traveled extensively in my life, including living abroad in London and Sydney, Australia but I am so excited to now call Wilmington my home.  I can't wait to help you find yours!