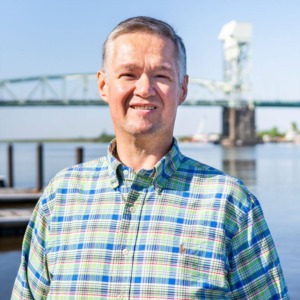 I am originally from a small town in western NC called Mount Airy. Western NC is so beautiful but I knew I wanted "to live at the beach" after my first visit to the coast. I moved to Wilmington in 2011 and felt at home right away. I lived in midtown for a couple of years before moving to Pleasure Island, first to Kure Beach and later Carolina Beach. 
I had always dreamed of opening a business so in 2016 I opened Go Sauce Yourself at the Carolina Beach Boardwalk. GSY was a retail store featuring craft beer, hot sauces, barbecue sauces and seasonings.  I met so many great people during the nearly 5 years we were open. I enjoyed getting to know my customers and hearing their stories. So many became friends that would stop in to say hello each time they came to the beach.
After closing GSY during covid, I moved to Myrtle Beach and got into real estate. I genuinely love helping clients buy and sell homes and investment properties but Myrtle Beach just never felt like home. I decided to move back to the Wilmington area and help others find their home in this truly unique place that I get to call home. The home buying process can seem overwhelming but I will walk you through it and make it as easy as possible. 
I have recently started playing pickleball so you will probably find me on a court trying to improve in my spare time.