Kayla Mae Boomer
Broker/ Realtor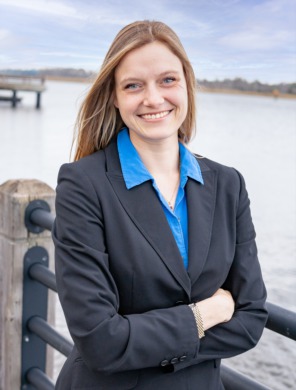 Hey Y'all, I'm Kayla Mae Boomer and I've called Wilmington, NC "home" for 8 years. I moved from Athens, Ohio after graduating from Ohio University with a B.A in Political Science. The first time I made a trip down to Wilmington, I knew it was where I belonged. I moved here within 6 months after my first visit, and never looked back.
     
  For this past year, I've spent most of my time helping others make their dreams come true and finding their place in this wonderful community, too! I am a member of the Women's Council of Realtors, Port City Young Professionals and excited to call myself a Broker in partnership with Navigate Realty. 
   
  Sunshine fuels me, the salty air refreshes me, and the ocean waves provide music to my ears that I can't imagine my life without. I have a 13-year-old black lab, that is my pride and joy, and a wonderful significant other who helps me forge a path forward of beauty and happiness. I have many hobbies, such as painting, singing, gardening, and writing (I intend to have a book written by the time I turn 40)! And, of course, I adore sluggish days in the sand. 
     
   I pride myself on honesty, service to others and do everything in my personal power to help anyone around me who needs it. I am an animal-lover, Plant-lover, people-lover: I guess you could say I am simply "A Lover", but I wouldn't have it any other way, (I can show teeth when I need to, though)! I am determined, energetic and always evolving, as I believe we all should be. I will never stop learning, nor would I want to. And I am so happy to be here with you.