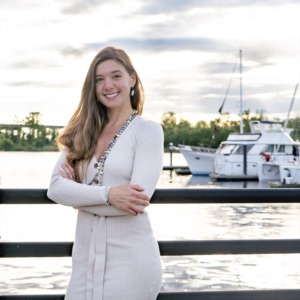 As a North Carolina native, Kristin has a deep appreciation for all that our beautiful  community has to offer.  Kristin grew up in Goldsboro, North Carolina where she met her high school sweetheart and now husband and real estate partner, Anthony. Together they followed their dreams, growing their family with two incredible children and making their way to the coast in 2016. In the past few years their love for the ocean and coastal community has only grown, bringing sincere gratitude for their path that lead them here. 
With nearly 10 years of professional experience in the industry from management including residential and vacation rentals, to design and real estate photography, Kristin has gained extensive knowledge on guiding clients to their perfect home and greater investment goals. Her desire to be of significant service and help others achieve their dreams adds to her value as an ideal real estate agent.
When Kristin is not helping clients achieve their real estate dreams, she enjoys spending time with her family, practicing and sharing yoga, being outdoors and connecting with the community through her passions for wellness, photography and animal rescue. Kristin gratefully serves her community through her passion project, Drishti Tribe, a network of wellness advocates to provide community-based yoga and wellness resources for all. She also shares her love of photography and animals as a volunteer photographer with Paws Place Dog Rescue.
With a genuine care of wellbeing and happiness for others, multi-dimensional industry experience and rooted connections with this incredible and inspiring coastal community, Kristin has you covered to taking the next step in evolving your dreams into reality.