5 Home Staging Tips to Instantly Attract Buyers
Posted by Kari Duncan on Thursday, November 5, 2020 at 2:40 PM
By Kari Duncan / November 5, 2020
Comment
If you are planning to put your house on the market, it goes without saying that you want your house to sell as quickly as possible! One of the best ways to ensure this is that you've prepped your home and staged it for success. Instead of pricey upgrades here are 5 unique tips that will style your home to instantly attract buyers.
1. Boost Curb Appeal
You've always known that first impressions are lasting so why not put your focus on the first thing buyers see-the front of your home. You can:
-Power wash drive-way and walkways
-Keep lawn, plants and porch decor fresh and neat
-Give your windows a wash
-Have your house numbers easy to read
2. Make it Appear Larger

Here's a few secrets that experts rely on:
-Try matching your draperies to your wall color to add height to the room
-Go the extra mile and do a paint touch up; this is highly recommend an inexpensive. Paint freshens up the home making it look and feel newer, but can also create an illusion of a bigger space. Using the same paint color (typically a lighter color) can create a seamless transition between walls.
-Mirrors! Decorative mirrors can reflect light and create the illusion of extra space in the house.
3. Make It Inviting
Plush pillows, throw blankets and soft warm colors can give your home a warm and welcoming feeling. A soft color palette will suggest a relaxing oasis. Remember to keep it simple and keep the colors aligned so that there is flow in the room. Be sure there is plenty of light and open your blinds. A bright room full of natural lighting is more inviting than a dark space.
4. Check your Closet
It is very common for potential buyers to be interested in the closet space of the home. So don't go and stuff all of your living room clutter behind those closed doors for a quick fix! Tidy up your closet and keep it organized with lots of floor space to make it appear larger.
5. Office Space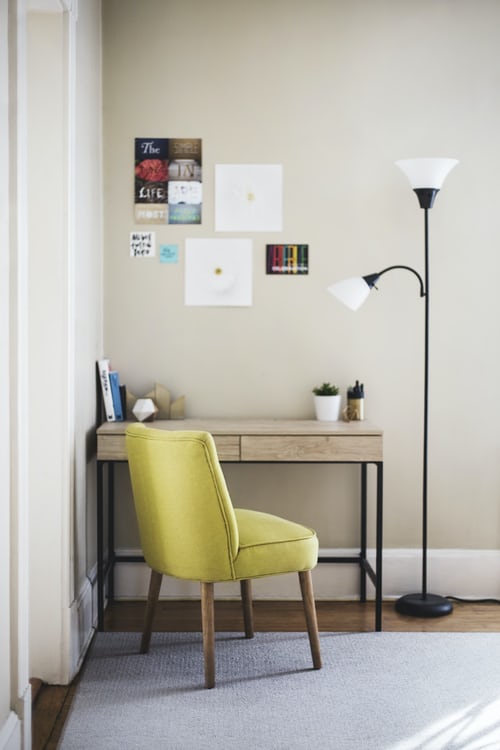 Last but not least…think about creating a functional office space. With so many people working from home and taking online classes this could be a major factor that appeals to buyers. If you don't already have an office space you can revamp, try creating one in a spare bedroom or with an extra space you can.
inspo via: American Home Shield and North of NYC