Color Psychology For Kitchen Remodel
Posted by Navigate Realty on Monday, December 28, 2020 at 8:46 AM
By Navigate Realty / December 28, 2020
Comment
Use the psychology behind color to guide your kitchen remodel
Picture your dream kitchen in your head. Unless your vision is in black-and-white, you probably have a favorite color already in mind. But, using color in a kitchen is about more than just your preference. Color impacts how we think and feel inside of a space. We call this the "psychology of color."
Color is more than what meets the eye
Social scientists have done a number of studies involving color and its impact on mood. Here are some of their findings—and how they might impact your kitchen remodeling project.
Blues: The color of calm, serene waters and peaceful skies, blue shades make for a calm and relaxing kitchen.

Greens: Associated with life and growth, greens make a kitchen feel more connected to nature, and encourage people to eat healthier.

Reds: A color of passion and excitement, reds spark creativity and appetite. But, be careful: too much bright red can also signal danger and cause agitation.

Yellows: Bright, sunny, and energizing, yellows and golds imbue your kitchen with a happy energy.
Incorporating color into your kitchen
Now that you understand the impact color has on your kitchen, it's time to start incorporating it into your remodel. Here are a few places where homeowners add color to their kitchens:
Cabinets: Through cabinet paint, many homeowners choose to add showstopping color to their cabinets. Your use of color here will certainly turn heads! Just make sure you pair your colorful cabinets with a neutral countertop and backsplash: you don't want too much of a good thing.

Backsplash: If you just want to add a "splash" of color to your kitchen, pair neutral countertops and cabinets (think grey, white, off-white, or charcoal) with a vibrantly colorful tile backsplash.

Walls: The benefit of adding color through wall paint is that you can always repaint in the future if you change your mind about the color.

Appliances: You have options beyond just stainless steel. You can introduce color to your space through your refrigerator, oven, or dishwasher. A cherry-red retro fridge might be the perfect addition to your farmhouse-style kitchen.

Accessories: From countertop appliances to your pendant lights, you can add color in a variety of innovative ways.
Work with a remodeling professional
We've no doubt given you some things to think about. Any kitchen remodel involves a lot of complex choices and moving parts. Our final recommendation? If you aren't already, work with a kitchen remodeling professional in your area. An experienced designer or contractor can help you translate your vision for your kitchen into reality, advising you on what works (and what doesn't) as well as how to go about finding the materials and people needed to get the job done.
Want to learn more about how the use of color impacts a kitchen? Check out this infographic. It breaks down the differences between popular kitchen colors and makes the case for using each!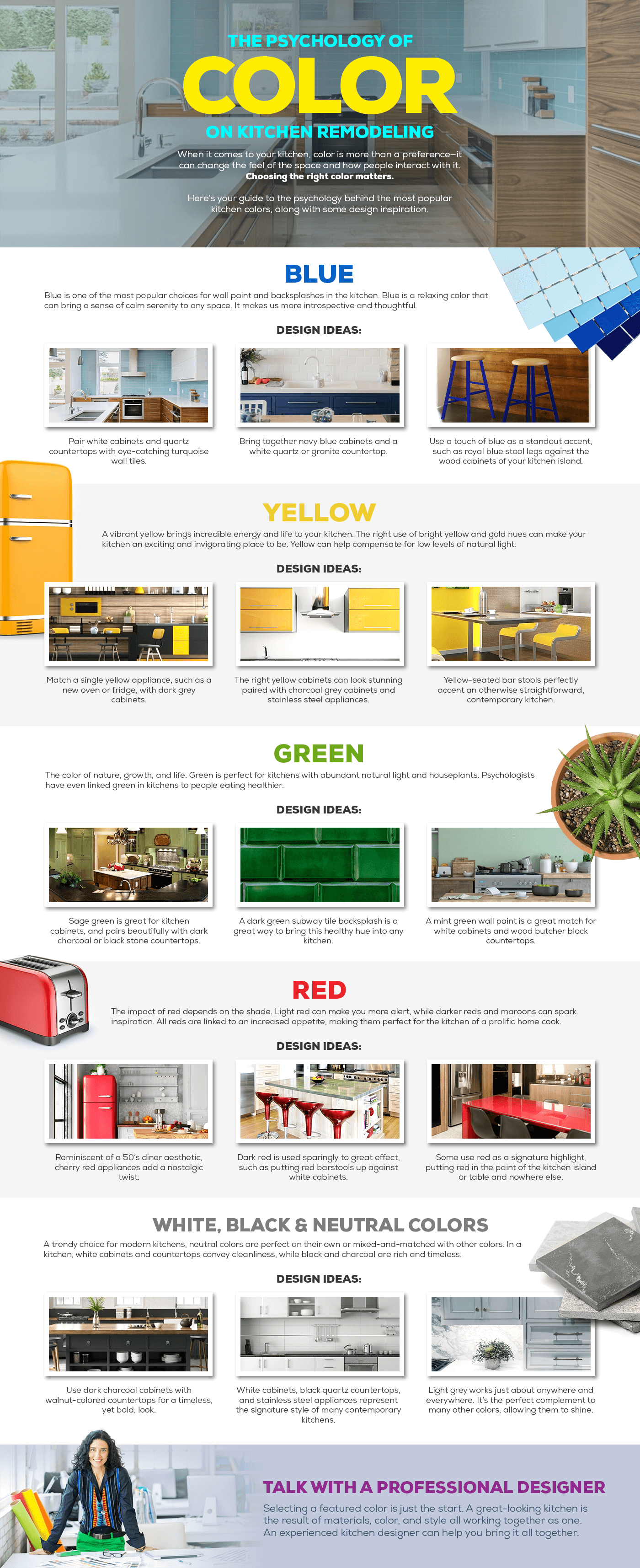 Blog Written By: Jane Wilson