Home Decorating Ideas For Fall
Posted by Kari Duncan on Monday, September 21, 2020 at 11:39 AM
By Kari Duncan / September 21, 2020
Comment
Happy First Day of Autumn! The new season has quickly snuck up on many of us, but it is a season that signifies something special. Autumn welcomes family and friends into our homes, a time of thanks and a cue to change up the home decor! It's so important to make your home a space that's comfortable and inviting. Here are 4 easy ideas to inspire you on your home decor for the season and making it a place you love:
1. Decorate Your Front Porch (DIY Fall Wreaths)
There are plenty of quick and inexpensive way to make your front porch ready for fall. Pumpkins, fall flowers, lanterns or a new fall welcome mat are the easiest decor options. If you want to go the extra step, a DIY wreath is the perfect touch that you can put your own spin on and make it as simple or as festive as you want!
Click on the wreath photo for a DIY tutorial!
2. Spice Up Your Mantel
If you have a mantel in your home, adding some decor to it can truly make a cozier difference. Decorative glass pumpkins, strings of fall leaves, or candles are all good filler options. *Decorating Tip: try to plan out the theme and colors you want to use throughout your home prior to shopping so that you're more prepared and can better match the decor (It's so easy to get carried away in HomeGoods and buy every fall item they have!).
3. Add Fall Flair To Your Table (DIY Centerpiece)
The table during the fall season is so important as it symbolizes a place where we gather with our loved ones to share stories, eat meals, play games, give thanks or whatever your family tradition is! There are so many options you can choose with table decor like this DIY centerpiece you can craft to your color scheme and taste!

Click on this photo for the tutorial to this DIY pumpkin centerpiece!
4. Pumpkins and Patios
If you love to gather on your patio during the chilly weather, adding festive fall-colored blankets and pillows are the perfect way to bundle up with family and guests! Adding in a fire pit for roasting marshmallows or just to stay warm is such a fun option for the season and is a great idea if you enjoy hosting a good get together!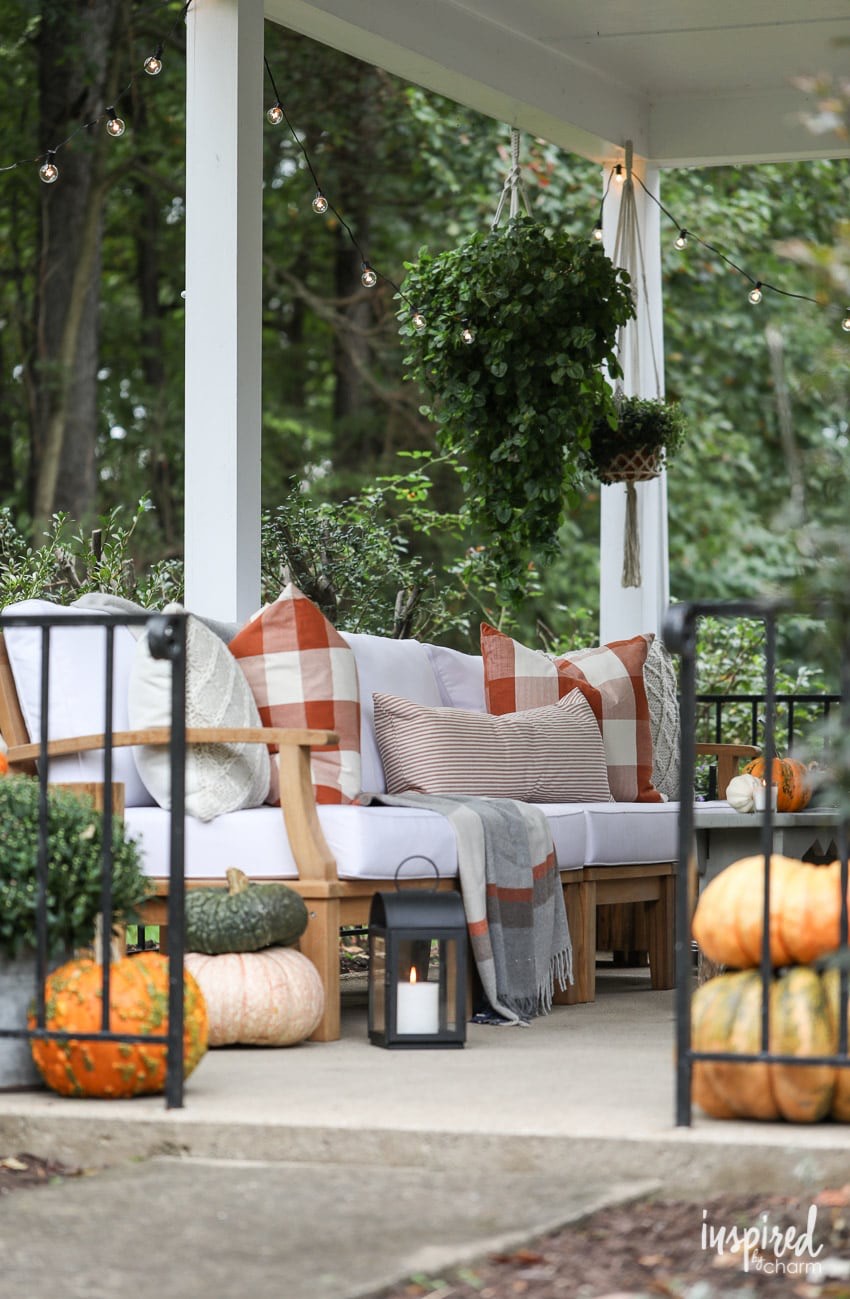 We hope you enjoyed these decor ideas and are inspired for the season! Happy Fall and happy decorating!