Top Tips For Finding The Right Insurance Agent: Robbie Norris NC Farm Bureau Agent
Posted by Kari Duncan on Wednesday, March 3, 2021 at 12:43 PM
By Kari Duncan / March 3, 2021
Comment
It's not just about selecting the right insurance coverage and understanding your options. Finding the right insurance agent is just as important and they should do more than just sell you a policy. Looking for an insurance agent you can trust and is an award-winning expert in the field? Look no further than contacting Robbie Norris of Farm Bureau Insurance. Here are Robbie's "Top Tips" on questions to ask and the perks of working with him and his team at the Bureau!
Top Tips from Robbie:
1. Make sure to choose a reputable insurer (saving money isn't good if the company is bankrupt at the time of a claim).
2. Be sure to ask about optional coverages. There are some endorsements that you can put on a Homeowner's policy that isn't automatically included. Some examples include the Water Back up and Sump Overflow endorsement. This provides coverage that results from water backing up through sewers or drains. Another popular endorsement is Refrigerated Property coverage which provides limited coverage for lost foods due to power outage or mechanical failure of the refrigerator.
3. Find out up-front about possible repairs! Some companies write a Homeowner's policy and then later do an inspection and inform the Homeowner that he/she will have to make certain repairs or changes in order for them to continue carrying the policy. In Robbie's experience, he has had customers reach out for help because they can not afford to make these changes or repairs due to having just purchased a home.
4. Make sure that the Insurance company isn't doing Consent to Rate (CTR) for carrying your Homeowner's Insurance. Some companies charge you a Consent to Rate charge just to carry your Homeowner's Insurance. Robbie says this means that they are charging you higher than the allowed rates set by the Insurance Commissioner in order to carry this Insurance for you. The client has to sign for this, but many clients do not realize what they are signing.
Perks of working with Robbie:
1. Farm Bureau has very competitive rates.
2. He is VERY accessible. Robbie will tend to all of his clients at any time! He is available to answer your calls/texts and emails after hours including holidays or weekends.
3. He has built a high functioning team with two assistants that help him service his clients so that you are in good hands. Robbie also treats working with referrals from a Realtor or Lender as a top priority!
4. Robbie and his team are quick and efficient. He says he can get a Homeowner's binder done on a same day notice if needed as opposed to other companies who might tell you they need a week to produce a Homeowner's binder.
5. Robbie truly cares about is clients and its enjoyable to work with him! Here's what past clients are saying...
Client Testimonial for Robbie:
"Robbie Norris is hands down the best (and coolest) insurance agent! He is a true gem of a human, the kindest man I've ever met and his rates were so good." -Samantha G.
About Robbie Norris:
Robbie serves the citizens of Orange County and the surrounding area.
He has been recognized consistently within the insurance industry for a number of accomplishments and outstanding achievements. Most recently he was awarded #28 career agent in the state! When he is not working, he enjoys spending time with his family, is a proud husband to his wife Kristen and father to his two sons Evan and Aiden. Robbie also enjoys worshipping with fellow members of the First Presbyterian Church in Whiteville, NC.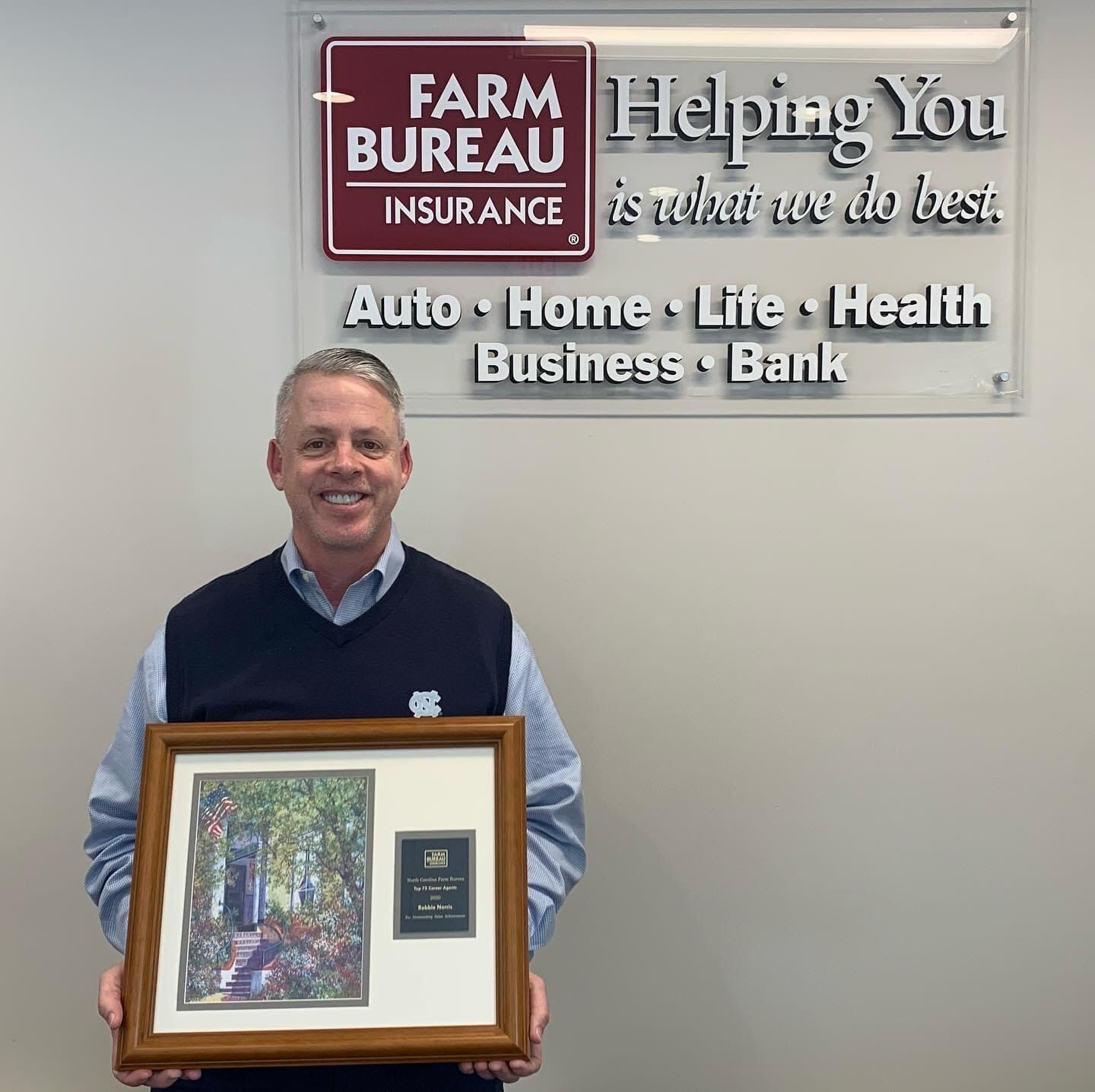 Connect with Robbie:
Email: robbie.norris@ncfbins.com
Cell: (910) 840-0833
Office: (919) 960-6801
Facebook: @robbienorrisfarmbureau